Comprehensive Teeth Cleaning & Bad Breath Treatment in North London
If you're looking for a dental hygienist in Archway, North London, Blue Light Dental & Aesthetic Clinic can help. Our skilled and professional team of dentists offer comprehensive teeth cleaning to remove plaque and tartar buildup and improve your dental health.
Even if you have the best dental care routine, there are always going to be areas of your mouth that are hard to keep clean. A professional scale and polish can give your teeth the "deep clean" they deserve.
Whether this is your first time visiting a dental hygienist, or you've had regular hygienist appointments in the past, Blue Light Dental clinic can provide the care you need. We will carry out a comprehensive scale and polish — so you'll leave your appointment with beautifully clean teeth.
What Is a Dental Hygienist Appointment? 
A dental hygienist appointment is a routine appointment when your dentist cleans your teeth using a range of professional techniques and tools. This "deep cleaning" of your teeth will gently remove built-up plaque from them.
Your hygienist will assess your oral health needs before starting the cleaning so that they can tailor the techniques to your specific needs.
What to Expect from a Dental Hygiene Appointment
Dental hygienist appointments are nothing to worry about — they're just a routine clean that should take around 30 minutes. You won't experience any pain during the appointment, and you'll leave with a beautifully clean smile.
But if you want to know exactly what to expect from your hygienist appointment, here's a step-by-step breakdown of what will happen.
A Few Questions About Your Health
Before cleaning your teeth, your hygienist will spend a few minutes going over your oral and overall health. They'll ask you about your medical history and any current medical conditions you might have. They'll also ask you about your current dental care routine and whether you have any dental issues at the moment.
Taking a Look at Your Teeth
Next, our hygienists will take a look at your teeth to determine your dental needs and plan the best course of action for removing plaque. They'll look at the plaque buildup on and in-between each of your teeth, and generate a "plaque score." The higher your score, the more plaque buildup you have.
Cleaning Your Teeth: The Scale and Polish
Once your hygienist has gone over your health and examined your teeth, they'll move on to the main part of the appointment: the scale and polish. Using specialist handheld tools, such as an ultrasonic scaler, your hygienist will scrape away plaque and tartar deposits.
Then they'll polish your teeth, smoothing their texture and applying polish to give your teeth a healthy shine and prevent plaque from building up again. This entire process is pain-free, but if you experience any discomfort, you can always ask your hygienist for an anaesthetic gel.
Dental Care Tips
After your scale and polish, your hygienist will update you on the results of the clean and will give you advice on how to maintain a low plaque score. They may suggest specific products for your teeth and gums or offer advice on how to improve your dental care routine.
Why Visit a Dental Hygienist?
Ideally, you should have a hygienist appointment at least twice a year to keep plaque and tartar buildup at bay. If your dentist has told you that you have, or are at risk of developing gingivitis (gum inflammation) or periodontitis (gum disease), regular hygienist appointments are even more critical.
Here are some of the reasons why dental hygienist appointments are so important.
Learn How to Take Care of Your Teeth
By having regular dental hygienist appointments, you'll have a clearer idea about your dental health. You'll receive personalised tips about how to look after your teeth. Furthermore, every six months or so, your hygienist will thoroughly examine your teeth and calculate a plaque score.
Prevent Gum Disease
Most adults in the UK have gum disease, an issue caused by bacteria irritating and inflaming your gums. By having regular hygienist appointments, you can prevent gingivitis from turning into periodontitis (gum disease).
Remove Stains from Your Teeth
We all want to look our best, and hygienist treatments can remove stains from your teeth. Stain removal can improve your smile, and if you're hoping to whiten your teeth, it can lead to better results.
Prevent Oral Cancer
During your hygienist appointment, your dentist will complete an oral cancer screening. If you do have any signs of oral cancer, regular hygienist appointments make it more likely you'll catch it in the early stages when it's most treatable
Put a Stop to Bad Breath
Bad breath is an embarrassing problem to have, but it's one you can combat with good oral hygiene. The cleaner and healthier your mouth, the more likely it is that you'll have fresh-smelling breath.
Book a Dental Hygienist Appointment in North London 
So if you're ready to book your hygienist appointment and reap the benefits of a clean and healthy mouth, get in touch today. Our friendly dentists will use state-of-the-art tools and professional techniques to rid your teeth of plaque and tartar and improve your overall oral health. Book your appointment online to secure your preferred slot now.
Before & After: 1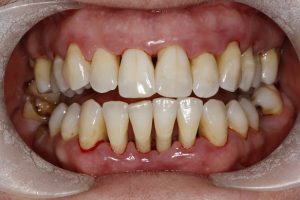 Before & After: 2