Tooth Whitening in Archway, North London | FAQs
What is Zoom White-Speed?
Philips Zoom White-Speed is an in-office cosmetic dental procedure for discoloured teeth whitening. A bright sparkling smile can make a huge difference in your life, increasing your confidence and motivating you to take better care of your teeth. Zoom White-Speed whitens up to eight shades in less than an hour, not including preparation time.
At Blue Light Dental, we've delivered hundreds of teeth whitening treatments for our patients. Interested but have a few questions? ASK us via FREE e-consultation today.
How does the Zoom White-Speed work?
The Zoom Gel's active ingredient is hydrogen peroxide. As the hydrogen peroxide is broken down, oxygen enters the enamel and dentin, bleaching the colour of your teeth while leaving the structure unchanged. The Zoom In-Office Lamp aids in activating the hydrogen peroxide and helps it penetrate only the surface. After the initial recommended oral exam, the complete procedure takes just one visit. The procedure begins with a preparation period followed by four 15-minute bleaching sessions.
How long do the results last?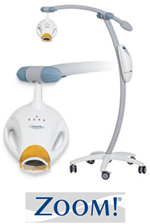 Teeth that have been whitened with the Zoom System will stay lighter than they would have been without it if special instructions are followed. To keep them looking their best, we recommend flossing, brushing twice daily, and occasional maintenance or touch-ups with the Zoom NiteWhite or DayWhite At-Home Teeth Whitening Systems.
Is maintenance recommended?
Some patients will never need to repeat the process. However, the Zoom System offers several options to maintain results or further enhance them. These include the Zoom DayWhite and Zoom NiteWhite At-Home Kits.
How often can a patient have Zoom In-Office teeth whitening in North London?
There are no known limitations on the number of Zoom procedures a patient can undergo. However, it is recommended to wait at least one week between Zoom procedures.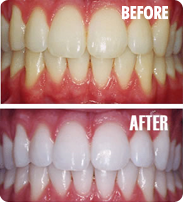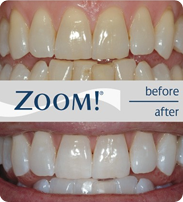 Is tooth whitening safe?
Yes. Extensive research and clinical studies indicate that this procedure, under the supervision of a dentist, is safe. However, we do recommend a consultation prior to your teeth whitening session to exclude any oral health problems. We advise patients to have oral prophylaxis (scale and polish) prior to their appointment to remove extrinsic teeth discolourations, which will also help you achieve the best results from the treatment.
We recommend that the following candidates consult a medical doctor before use:
Pregnant and lactating mothers
People are currently being treated by their physician for a serious illness or disorder (e.g. immune-compromised, AIDS and uncontrolled diabetes, etc.)
Children under the age of 13 years
Light-sensitive individuals, including those on PUVA (Psoralen + UV Radiation) or other photochemotherapy
Patients taking any photo-reactive drugs or substances, whether over-the-counter (O.T.C.), prescription or homoeopathic
Patients who are not eligible for the Zoom In-Office procedure for these reasons may be excellent candidates for Zoom NiteWhite or Zoom DayWhite At-Home Teeth Whitening Systems.
Are there any side effects?
The Zoom light generates minimal heat. On rare occasions, minor tingling sensations are experienced immediately after the procedure but always dissipate.
For long-lasting results, we recommend using a Philips Sonicare toothbrush.
Contact Blue Light Dental Clinic for teeth whitening in North London. We offer free e-consultation on our dental procedures.