Successful, Predictable and Cost-Effective Dental Implants in Archway, Holloway Road, N19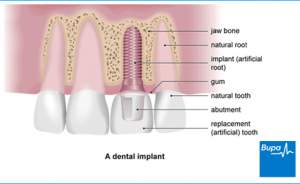 We provide high-quality, scientifically engineered dental implants at highly competitive and affordable prices. We are able to achieve aesthetically pleasing results, completely restoring your smile and improving your ability to chew. Our confidence, knowledge and over 20 years of experience allow us to offer top-quality restorations under one roof. Please visit us for a consultation and advice.
We practice evidence-based dentistry and always deliver the best possible results to our patients.  Dr Monika studied Diploma in Implant Dentistry at FGDP, part of the Royal College of Surgeons of England. She travels across Europe to learn from the best implantologists and master the skills and techniques. Rest assured you will be offered safe, predictable, and long-lasting restoration at affordable prices. We deliver the best.
Dental Implants FAQs
What is it?
A dental implant is a titanium screw that replaces the root of the missing tooth and is firmly integrated with the jawbone.
What are the implants for?
Implants are used for replacing a single or multiple missing teeth. They can be used for single-tooth replacements, bridges or to stabilise dentures. The stabilised denture can be significantly reduced in size to aid comfort when eating and speaking. Dentures can also be semi-permanently screwed into the dental implants or held with precision attachments.
What are the advantages of having an implant?
The main advantage of having a tooth implant is to replace one or more missing teeth while avoiding damage to the adjacent natural teeth, which can happen with a conventional bridge. By choosing this option, you can prevent trauma to your healthy teeth and possible infections and root canal treatment at a later date. An implant imitates the tooth in a very natural way while looking and functioning just like a natural tooth. In a healthy mouth with well-maintained oral health, the tooth substitute can last for a lifetime.
A dental implant prevents bone resorption and the collapse of the dental alveolar bone (which contains the tooth sockets that holds the teeth), and the cheeks and lips. It also holds other teeth in place by stopping other teeth from drifting into the missing tooth gap.
Who are dental implants suitable for?
Anyone who has lost teeth or is dissatisfied with their dentures or overall dental condition and wants to feel more confident when smiling, laughing, eating and talking is suitable for dental implants. However, in some cases, the structure of the mouth may prevent the use of an implant. If you are healthy enough to undergo routine dental extractions, you will more than likely be suitable for them. Generally, people who have uncontrolled diabetes, haemophilia, leukaemia or other blood-related diseases, or those on steroid therapy, are not suitable for implants. It's also important to note that if you're a smoker, your body may reject the implant, as smoking restricts the blood flow to the gums, prolonging the healing process and increasing the risk of failure. We recommend consulting your dentist for advice.
Will it be painful?
The procedure is generally very simple and takes a short time, though this will depend on each individual case. The procedure is usually performed under local anaesthetic. This will numb the area, so you will feel no pain. There may be a little discomfort immediately after surgery, but this should not be cause for concern. After your implant is fitted, you may need to take mild painkillers for relief and stay on a soft diet for a few days, avoiding any hard foods.
What should I expect afterwards?
After placing an implant in the bone, it will be left to integrate for a period three to six months. After this time, you will be booked in for an appointment to x-ray the implant and confirm it has integrated with the bone. Then, we'll make your final ceramic restoration, which will look like your natural teeth and be fitted on top of the implant.