Dental Crowns and Bridges in Archway, North London
Restore Your Smile
Damaged or missing teeth can affect your confidence and make everyday tasks like smiling, talking and eating a challenge. So why not transform your smile with dental crowns or bridges?
If you have missing teeth, or teeth that seem damaged beyond repair, that doesn't mean you have to give up on your smile. Dental crowns and bridges can restore your smile, giving you back your confidence and the ability to eat and talk with ease.
At Blue Light Dental Clinic, our dentists have helped hundreds of patients transform their smiles with high-quality but affordable restorative dentistry. With the highest-quality materials, state-of-the-art equipment and extensive professional knowledge, we can achieve outstanding results with dental crowns and bridges.
What Are Dental Crowns and Bridges?
Dental crowns and bridges are types of restorative dentistry that aim to replace damaged or missing teeth. With prosthetic teeth and tooth "caps", crowns and bridges give your mouth the makeover it deserves, creating a smile that looks as good as new.
Dental Crowns
A dental crown is used to cover an individual's damaged tooth. It can completely cover the tooth, or it can be placed on top of the tooth. You might also have heard crowns referred to as "caps".
Once a crown is fitted, it strengthens the damaged tooth and improves the tooth's appearance and shape. Crowns are permanent false teeth, so once they're fitted, only a dentist will be able to remove them.
Dental Bridges
Bridges, on the other hand, can be used to bridge the gap left by a missing tooth (or multiple missing teeth on the same side of the mouth). Missing teeth are replaced with false teeth, and crowns will be placed on the teeth on either side of the gap. The crowns will be joined with the replacement teeth, anchoring the bridge in place. Both crowns and bridges can also be mounted onto dental implants.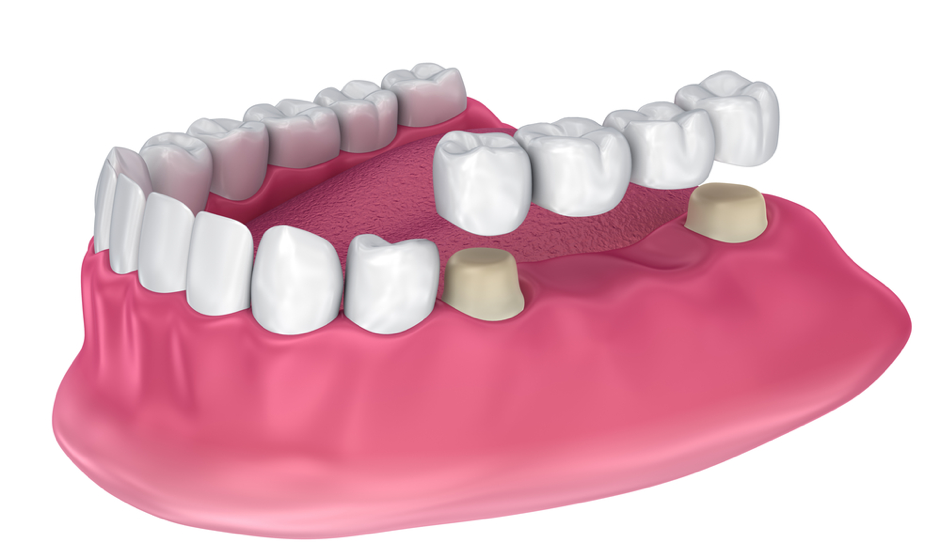 Whether you restore a single tooth with a dental crown, or completely transform your smile with a dental bridge, your dentist will match the colour of your new teeth to your existing, natural teeth. This way, your dental transformation will look completely natural.
Why Restore Your Smile with Crowns and Bridges?
Having dentistry work done is a big decision, so what are some of the benefits of crowns and bridges?
Improve Your Appearance
Damaged or missing teeth can drastically change the appearance of your smile, so if you want to restore your smile to its full beauty, crowns and bridges can repair aesthetic damage as well as restore your teeth's functionality.
Prevent Structural Issues
Missing teeth can affect the structure of your whole mouth by causing you to chew and bite differently, causing surrounding teeth to shift, and even causing bone loss. By using a dental bridge to replace missing teeth, you can prevent structural issues from occurring.
Crowns and Bridges Are Easy to Maintain
Crowns and bridges aren't removable. They're permanently fixed to your existing teeth. So to clean them, all you need to do is carry out your usual dental hygiene. Brush and floss twice a day, and go for regular dentist check-ups and hygienist appointments.
Our crowns and bridges are made from high-quality porcelain, a material that feels similar to natural teeth. So one of the biggest benefits of crowns and bridges is that once fitted, you'll barely notice them — they'll feel like a natural part of your smile.
Why Get Your Dental Crowns or Bridges Fitted at Blue Light Dental?
If you've decided a crown or bridge is the dental solution for you, you must find a dentist with specialist knowledge who can achieve outstanding results. At Blue Light Dental, we're committed to providing the highest quality care.
We also offer 0% finance plans to help you spread the cost of your dental treatments. This way, you can receive treatment immediately and pay gradually over several months or years.
So if you're ready to replace missing or damaged teeth and restore your smile with crowns or bridges, get in touch today. You can book an appointment online, or contact us by phone or email and we'll get you booked as soon as possible. 
Before & After: 1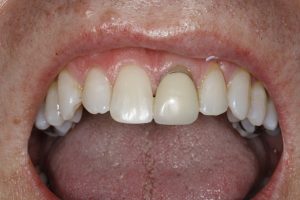 Before & After: 2