General Dentistry for Adults and Children
We offer a full range of treatments, some of which are highlighted below:
White filling – is used to restore a decayed tooth or remove unsightly silver metal fillings for a whiter smile. The filling will match the shade of your teeth and will be virtually undetectable.
Veneers – are ultra-thin, custom-made laminates that are permanently fixed to your teeth, ideal to lengthen and whiten your teeth, or to close gaps. Little or no preparation is required.
Dental Crown – is needed to restore a heavily decayed or broken tooth. There is a choice of several materials and your dentist will advise on the best option for you.
Dental Bridge – can be used to replace missing teeth when at least some of the teeth are present and suitable for the restoration. The bridge is supported on your own healthy teeth. There are different types of bridges and your dentist will go through the options with you.
Dentures – are a way of replacing multiple missing teeth. We can advise you of the types available and most suitable for your mouth. We also offer more discreet flexible dentures.
Gum Disease and Prevention
Are you worried about bleeding gums or bad breath?
Visit our Dentist in Crouch End.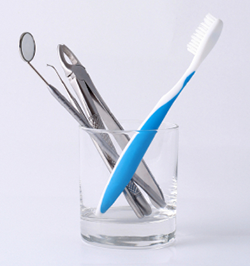 Often bad breath and bleeding gums can be a sign that there is a problem with the gums and the supporting tissues of the teeth, and is an indicator that you need treatment. This is often a simple scale and polish to remove plaque and tartar and educating you about the best oral hygiene techniques to keep the germs away. If the gum condition is more advanced, your dentist might advise a more thorough assessment and intensive treatment of your gums. This is to ensure we help you hold onto your teeth for as long as possible since untreated gum disease is known to lead to loosening of the teeth.
We believe it is extremely important to help you achieve the smile you want, but also prevent any future problems with your teeth and gums. That is why we will send you a gentle reminder every six months to encourage you to come for a check-up. We will clean your teeth using most effective air abrasion equipment to achieve spotless smile. You will feel so cool and refreshed!
At our clinic, we also supply various oral hygiene products, such as electric toothbrushes, for a discounted price.
Children's Dentistry
We welcome your children too. Our friendly staff spend time with them to make them feel at ease and comfortable when visiting the dentist. We believe in learning good habits from a young age and make learning about teeth and brushing fun!