We have a lot of people asking us: "Is teeth whitening safe?" Here are all the answers you need before booking an appointment.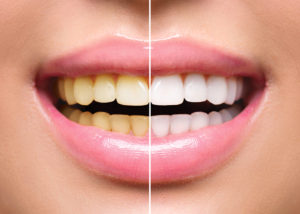 If you're considering teeth whitening in North London, we're here to give you all the information about it. You may be concerned that it's not safe or that it will hurt. That's understandable, but when you pay a visit to the right teeth whitening clinic, there's no need to worry. Here, we will explain the whole procedure and what you can expect.
Teeth whitening is a very popular option for those whose teeth have discoloured over the years. Unfortunately, drinks such as a tea, coffee and wine, as well as smoking, can have an effect on the colour of teeth.
We want you to feel confident with your smile. If you think that teeth whitening will give you the confidence to feel proud of your smile, book a consultation with our dentist in Crouch End. Having brighter teeth has helped so many people feel happier with their smiles.
Read our frequently asked questions below, but feel free to contact us if you have any more queries about teeth whitening in North London.
When Is Teeth Whitening Safe?
Teeth whitening is extremely safe if it is performed by somebody who is registered to carry out the treatment. The dentist or practitioner should be registered with the General Dental Council (GDC) and be trained in teeth whitening. Somebody who is trained will know how to administer the teeth whitening agent and it will be in a safe, clean environment.
The regulations for teeth whitening state that the ingredient used in teeth whitening, hydrogen peroxide, should be no more than 6%. A dentist or trained dental practitioner is the only person who can legally use this amount of hydrogen peroxide to whiten teeth.
Before any teeth whitening procedure, it's important to have a consultation with a dentist. They will be able to assess if your mouth is healthy and suitable for a teeth whitening treatment. Some people are advised against teeth whitening, but this can be discussed with the dentist or a doctor.
How Does the Treatment Work?
At Blue Light Dental Clinic, we are an approved dentist for teeth whitening. We use The Zoom teeth whitening technology which can whiten teeth by up to eight shades!
The Zoom teeth whitening treatment has fantastic results and has made so many people more confident with their smiles.
The first step is to apply gel to the teeth, which has the hydrogen peroxide in it. We then use The Zoom lamp to shine onto the teeth and allow the gel to whiten the surface.
It's really that simple and will only take one appointment after the initial consultation. Some patients have a very temporary mild tingling feeling afterwards, but, this always disappears.
Is At-Home Teeth Whitening Safe?
At-home teeth whitening kits are available in shops, but the results are very different to that which you will get in a dental practice. Teeth whitening kits which you can use at home can only legally contain less than 0.1% of hydrogen peroxide. This means the results won't be as good as when you visit a dentist.
After having teeth whitening administered by a dentist, they can give you accompanying kits at home to help maintain the whiteness of the teeth. These kits are very safe and your dentist will tell you how to get the best results.
Where Can I Get Teeth Whitening in North London?
The important thing to remember with teeth whitening is to find a dentist or practitioner who is registered to perform teeth whitening. There have been a number of cases of illegal teeth whitening at beauty salons. This is not safe. You may find this is a cheaper option, but it is a far less safe environment and they will not have the same experience and training.
Find a dentist registered with the GDC who has experience with teeth whitening. If you have any anxiety about the process, be sure to express this to the dentist, who will do their best to make you feel at ease throughout the treatment.
Contact Blue Light Dental Clinic today for a teeth whitening consultation. Our dentists are fully trained in teeth whitening and approved by the GDC. We currently have a great discount on offer — £50 off for teeth whitening treatment!