About Blue Light Dental & Aesthetic Clinic
We're a London Dental Clinic dedicated to helping you feel and look your best. If you're looking for a dentist in London N8, Blue Light Dental & Aesthetic Clinic offers treatments for all of your dental needs.
At Blue Light Dental & Aesthetic Clinic, our team of highly qualified dentists and healthcare professionals are here to help you look after your smile and look your best. 
Our team are friendly and passionate about what they do and want you to feel as relaxed as possible. Our comfortable London dental clinic has a relaxing and welcoming atmosphere to help ease any nerves you might have. And with state-of-the-art equipment and expert dentists and nurses, you can expect treatments of the highest quality. 
Why Choose Us?
We Are a 5-Star Rated Practice
We always make sure to provide the best treatment and experience possible for our patients, and this is reflected in our five-star ratings on Google and Save Face. Our patients always leave smiling. 
We Provide a Full Range of Dental and Aesthetic Treatments
Whether you're in need of a dental check-up or you want to transform your smile, we offer a range of treatments to cover all of your dental and aesthetic needs. From routine dental check-ups to cosmetic dental treatments like teeth whitening or straightening, we'll help you maintain a beautiful smile and a healthy mouth. We also offer a range of aesthetic skin treatments such as dermal fillers and anti-wrinkle injections to help you look your best.
Our Team Are Highly Qualified and Experienced
All of our dentists and health professionals are highly qualified and have years of experience providing the best possible treatments. We adhere to the General Dental Council's Standards for Dental Professionals, and we are constantly updating our professional knowledge and skills so that we can provide the best practice standards. 
Our Clinic Offers a Relaxed and Welcoming Atmosphere
We know that clinical settings can feel a little cold and daunting, so we've created a clinic that's friendly and welcoming. Our relaxed atmosphere and friendly staff will ease any nerves you might have and you'll feel right at home while waiting for treatment. 
We Have Several Awards And Accreditations
Our awards and accreditations prove that we're dedicated to providing the best dental and aesthetic treatments in a safe and welcoming environment. Blue Light Dental & Aesthetic Clinic has been recognised by organisations in the UK and internationally.
Our Awards And Accreditations 
General Dental Council
Blue Light Dental Clinic is registered with the General Dental Council, the UK-wide statutory regulator of dental teams. We meet the GDC's standards of conduct, performance and ethics by always putting our patients first and delivering safe and effective dental services, making sure our patients fully understand their treatments. We also always listen to our patients' preferences and concerns. 
Care Quality Commission 
We were recently inspected by the Care Quality Commission, which monitors the quality of care provided by organisations in the health sector. CQC is a government-recognised regulator, and we're proud to say that we achieve the CQC care standards with flying colours. Our CQC report details that we provide caring and effective services in a safe environment. Our staff always support our customers and provide them with the information they need. 
Parliamentary Review
Blue Light Dental Clinic has recently been chosen to be featured as an expert in The Parliamentary Review, a publication backed by MPs, Lords and Prime Ministers including Theresa May and David Cameron. The Review showcases best practices with the goal of highlighting success while paving the way for higher industry standards.
British Dental Association
Blue Light Dental is an Expert Member of the British Dental Association — we're committed to providing the highest quality services. We comply with the BDA's standards to ensure we always offer the best treatments in the safest environment. 
Save Face
Save Face is a national register of practitioners that provides non-surgical cosmetic treatments. Save Face practitioners are assessed against a rigorous set of standards to ensure best practice in safe and hygienic environments. The register is recognised by the government, The Department of Health and the NHS. 
Blue Light Dental is Save Face Accredited, which means we're committed to providing best-practice standards, and we only use well-established aesthetic products. 
Dr Monika Laczna
DDS, MJDF RCS(Eng) Principal Dentist GDC No: 84114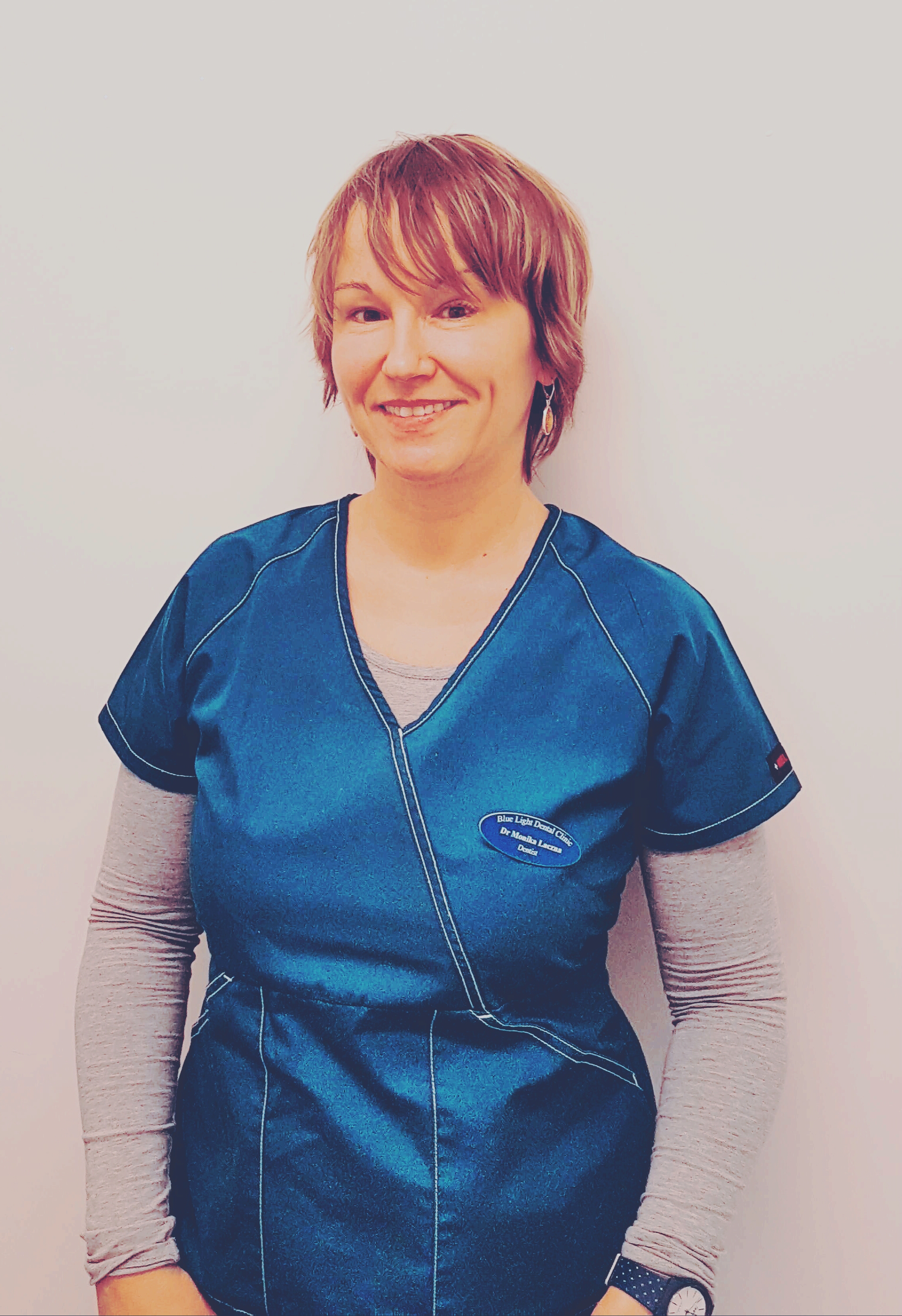 About Dr Monika Laczna
Dr. Monika Laczna is the dentist behind Blue Light Dental. Monika graduated from Medical Academy in Wroclaw, Poland in 1997. She then worked in a private practice for five years. In 2002 she moved to London. 
While working in a mixed practice in London, she developed a strong interest in cosmetic dentistry and facial aesthetics. She completed the MJDF diploma from the Royal College of Surgeons of England and obtained the Certificate in Restorative Dentistry from UCL Eastman Institute in London in 2009. She opened the Blue Light Dental & Aesthetic Clinic in December 2010.
Monika's skill lies in teeth straightening. She is familiar with clear braces, Invisalign, 6 Month Smiles and Quick Straight Teeth. She's treated over 500 orthodontic patients and achieved incredible results in a very short time. 
Monika also provides implants for restoring missing teeth. She gained vast experience under careful mentoring of Professor Amr Zahran from Cairo University in Egypt. She studied for a Diploma in Implant Dentistry at the Royal College of Surgeons of England.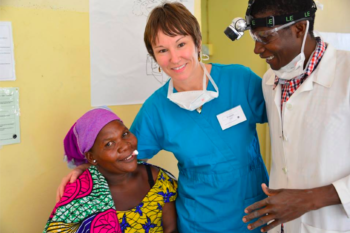 Monika volunteered in Tanzania in February 2016, raising money for the Bridge 2 Aid dental charity. One of her roles was to teach Tanzanian clinical officers to safely treat dental emergencies. As a part of the team, she saved over 1,000 local people from pain.
In her private life, she is a proud mum of two children. She also enjoys playing tennis, especially in the south of Spain.
Dr Monika Laczna and the team at Blue Light Dental can help you achieve a perfect smile or give your skin a new lease of life with one of our skin treatments. Get in touch today to learn more or to book an appointment, or you can book an appointment online.
Miss Brenda Magloire
Dental Nurse GDC no139464, Receptionist