Multi-Colour Laser Tattoo Removal in North London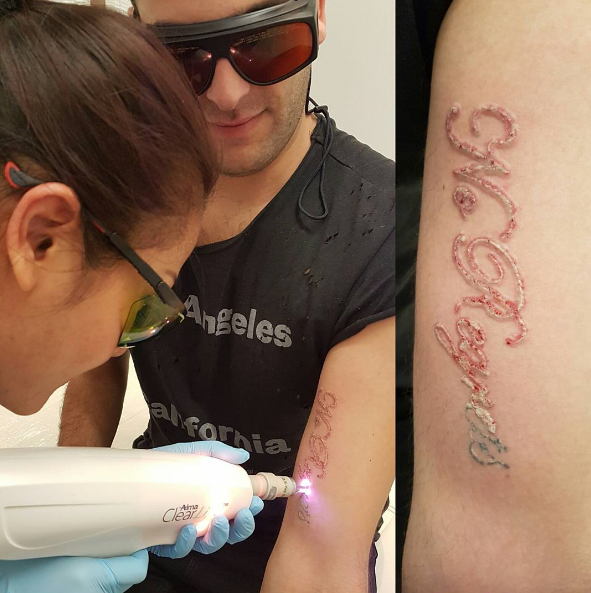 We are proud to offer laser tattoo removal in North London. Results are fast and the treatment is relatively painless, but this will depend on your pain threshold. While you may experience some discomfort, the majority of our patients comment that laser tattoo removal is a pleasant procedure, recommending us to their friends and family. At Blue Light Dental, we will always put you at ease and minimise discomfort and pain as much as possible during your procedure.
With effective multi-colour laser tattoo removal, you can now remove that ugly and unwanted tattoo. You no longer need to spend your life embarrassed and shamefully covering up your skin as a result of a young mistake, a heat-of-the-moment decision or simply a poorly conceived design.
Successful multi-colour laser tattoo removal requires a high-powered laser that can deliver enough energy.  The Q-Switched Nd:YAG 1064 nm laser treats dark ink colours (black, blue and green), while the 532 nm wavelength works well to remove brighter colours (red, orange and yellow).
Read 5 Reasons Why Tattoo Removal Gives You the Perfect Fresh Start

How does laser tattoo removal work?
The body sees the ink as a foreign body
The light energy from the laser is rapidly absorbed into the ink and, as a result, the ink is shattered into small particles
The body's lymphatic system removes the ink, causing the tattoo to gradually fade away
How easy or difficult it will be to laser-remove your tattoo will depend on the quality of tattoo (amateur, professional, medical, cosmetic or traumatic) and its age
We recommend a minimum of six sessions, four to six weeks apart
You can expect some shadowing or ghosting of your tattoo
Post-treatment care after your laser tattoo removal session
Change the dressing twice daily after first gently cleansing with soap and water until fully healed
Keep the area moist with ointment or emollient until fully healed
Avoid the sun in between treatments
Do not pick scabs
Avoid heat for 48 hours post-treatment (no sauna, steam room, heavy gym sessions or spin classes)
Laser tattoo removal prices:
While this is only indicative information, prices are always confirmed after consultation and a test patch.
Small tattoo (3cm x 3cm): £50
Medium tattoo (8cm x 8cm): £90
Large tattoo  (15cm x 15cm): £125
Super-large tattoo (20cm x 20cm): £175
Latest tattoo removal deals
Buy 6 sessions and get 20% off
Buy 8 sessions and get 30% off