Multi-colour laser tattoo removal in North London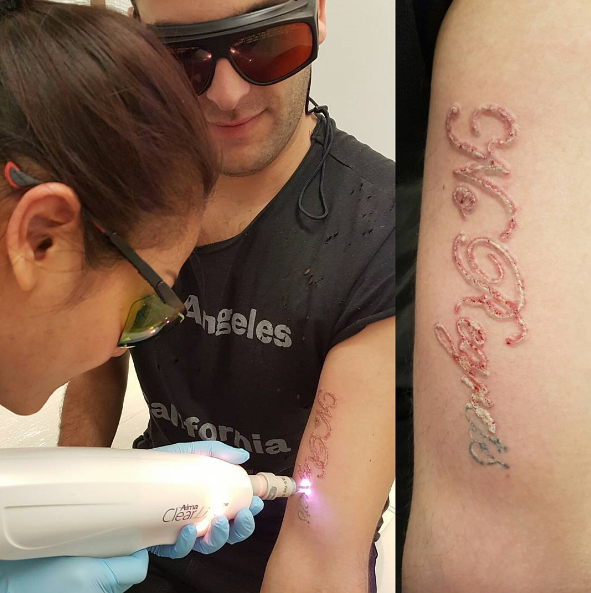 Successful multi-colour tattoo removal requires a high powered laser that can deliver enough energy within the absorption spectrum of a wide range of colours. Blue Light Dental Clinic offer laser tattoo removal in North London.
5 Reasons Why Tattoo Removal Gives You the Perfect Fresh Start
The high power Q-Switched Nd:YAG 1064nm laser treats dark ink colours (black, blue and green), while the 532nm wavelength is working well on brighter colours (red, orange and yellow).
How does laser tattoo removal work?
tattoo ink is seen as a foreign body in the skin
light energy from the laser is rapidly absorbed into the ink, causing a fragmentation and shattering of the ink into small particles
the fragmented ink is then removed via lymphatic drainage
the distinct qualities of each type of tattoo (amateur, professional, medical, cosmetic, traumatic) will dictate the behaviour and varying responses to the laser therapy.
a minimum 6 treatments are required, once every 4 to 6 weeks.
shadowing or ghosting of tattoo can be expected
Post-treatment care after laser tattoo removal session:
change the dressing twice daily after first gently cleansing with soap and water until fully healed
keep area moist with ointment or emollient until fully healed
avoid the sun in between treatments
do not pick scabs
avoid heat for 48 hours post treatment (no sauna, steam room, heavy gym sessions, spin classes)
Prices:
This is only indicative information. Prices will be confirmed after free consultation and a patch test.
small tattoo (max 3cm x 3cm) £150
medium tattoo (max 8cm x 8cm) £200
large tattoo  (max 15cm x 15cm) £250 -£300
It is recommended to buy minimum 6 to 8sessions.