About Dentists in London N8
Blue Light Dental Clinic and Aesthetic Clinic has team of highly qualified and experienced dentists and health professionals.
The team adhere to "Standards for Dental Professionals" developed by General Dental Council (GDC).
Check the result of recent CQC inspection in the clinic. Click here
Cosmetic Dentists in Haringey, London – Our dentist offers professional dental treatments in a very friendly and relaxed environment at Blue Light Dentists in London N8.
Dr Monika Laczna
DDS, MJDF RCS(Eng) Principal Dentist GDC No: 84114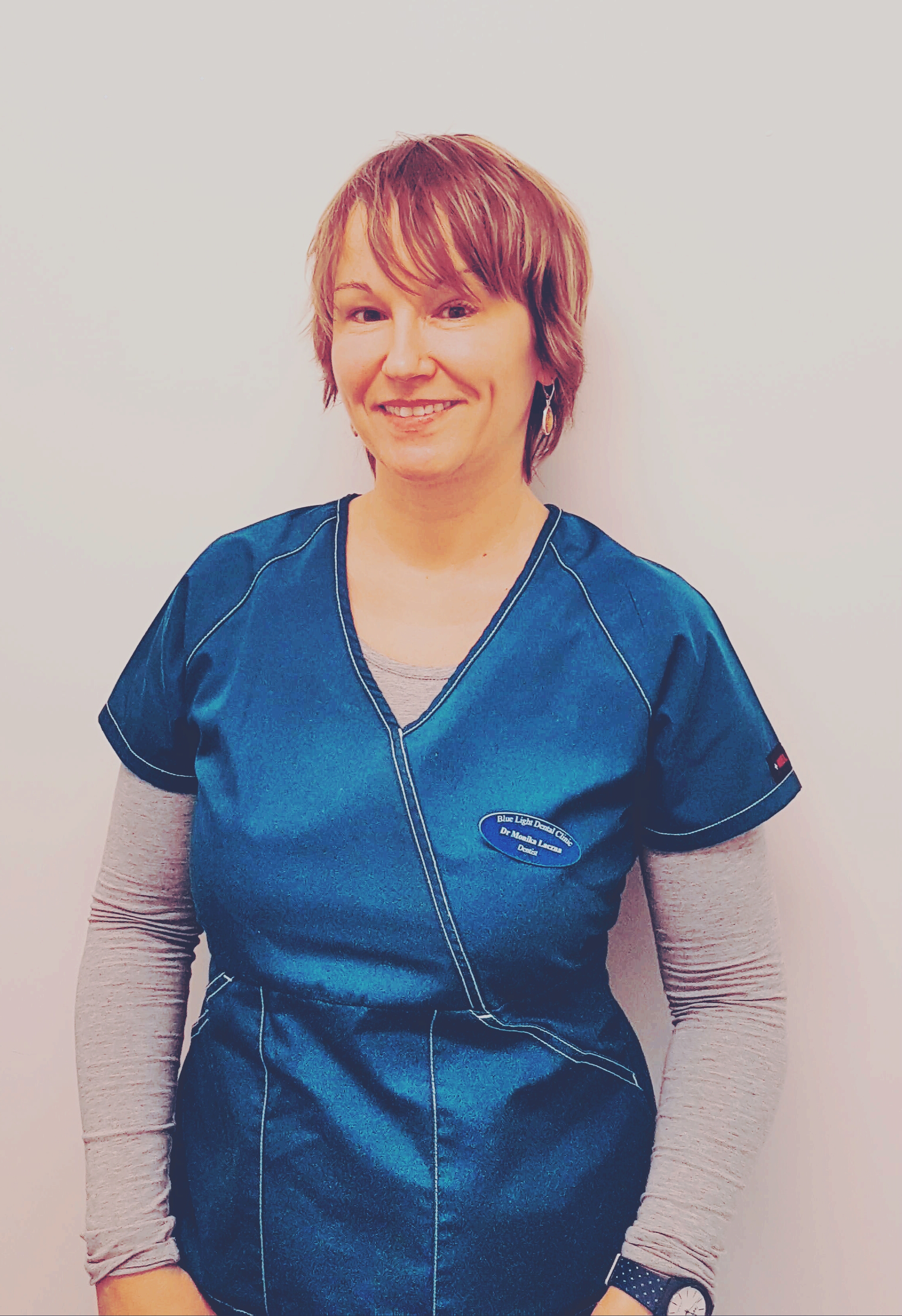 About Dr Monika Laczna
Monika graduated from Medical Academy in Wroclaw in Poland in 1997. She worked in a private practice for 5 years. In 2002 she moved to London. While working in a mixed practice in London she developed a strong interest in cosmetic dentistry and facial aesthetics. She completed the MJDF diploma from Royal College of Surgeons of England and obtained the Certificate in Restorative Dentistry from UCL Eastman Institute in London in 2009. She opened the Blue Light Dental and Aesthetic Clinic in December 2010.
Monika's very strong skill is in teeth straightening. She is familiar with clear braces, Inman Aligner, 6 Month Smiles and Quick Straight Teeth. She treated over 500 orthodontic patients and achieved incredible results in a very short time.
Monika provides implants for restoring missing teeth. She gained vast experience under careful mentoring of prof Amr Zahran from Cairo University in Egypt. From February 2017 she is studying for Diploma in Implant Dentistry at Royal College of Surgeons of England.
Monika was fundraising and volunteering in Tanzania in February 2016 for Bridge 2 Aid dental charity. One of her roles was to teach Tanzanian clinical officers to safely treat dental emergencies. As a part of the team she saved over a 1000 local people from pain.
In her private life she is a proud mum of two children. She also enjoys playing tennis passionately. Her preferable place to play the game is the south of Spain.
Monika speaks English, Polish, basic Russian.
Miss Angela Nakiyingi
Dental Nurse
About Miss Angela Nakiyingi
Angela is a qualified dental nurse with a passion for paediatric dentistry. She trained at the Royal London dental hospital where she gained experience nursing for orthodontic, restorative, oral surgery and paediatric departments. She has nursed patients with oral cancer, special needs and complex cases. Her experience at the dental hospital enabled her to work with a wide range of dental specialists, students and consultants.
Angela also has a television and media background. Since hosting live events, she's gone on to TV and is making her mark. She has recently taken the role of an on screen receptionist on a factual entertainment series 'Dr Christian will see you now' (2017) with Dr Christian Jessen known for embarrassing bodies. Angela welcomes, consoles, advises and celebrates with patients on the show.
She is a bubbly, empathetic, self motivated individual who holds beliefs that the dentist can be a warm and inviting place. She especially enjoys working with phobic patients and would like to help change negative outlooks that some people hold of the dentist.
In her spare time she enjoys socialising, making videos, painting and cooking.
Olena Duma
Dental Nurse GDC